Self-Help for the Elderly hosts the Longevity Gala to celebrate its anniversary of serving seniors and non-profit services. Each year, the annual gala attracts over 800 guests with a night of music, dancing, dining, and entertainment. Silent auctions, grand auctions, and grand drawings are also held. Guests can participate in the auctions and can donate items as well.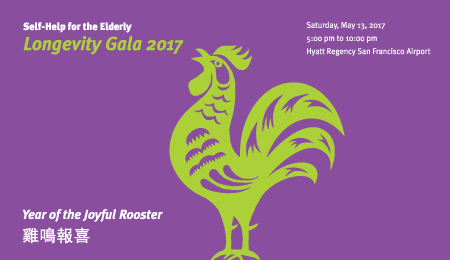 The Longevity Gala aims to raise over $500,000 to support Self-Help for the Elderly's non-profit elderly care services. There are a variety of levels of sponsorships for each table, which vary by donation.
Longevity Gala
Saturday, June 16, 2018
5PM
Hyatt Regency San Francisco Airport
1333 Bayshore Highway
Burlingame, CA 94010
Resources
Silent Auction Item Donation Form
Souvenir Dinner Program Advertising Form
Contributions to Self-Help for the Elderly are tax deductible, less $80 per attendee.
Make sure not to miss out on the Longevity Gala each year. Contact Self-Help for the Elderly to purchase a table sponsorship, donate an auction item, or to buy your gala ticket.
$800 will be deducted from each table of 10 as dinner cost. SHE Tax ID No. is 94-1750717.
The various sponsorships include:
Emerald Sponsor ($30,000)

2 Emerald Sponsor tables of 10
Individual press conference to announce sponsorship
Presentation of Appreciation Souvenir at the Gala
Banner display at event
1 full-page color ad in the dinner program
Corporate name listed as Emerald Sponsor in all event publicity materials

Diamond Sponsor ($25,000)

2 Diamond Sponsor tables of 10
Sponsorship announcement at press conference
On-stage presentation of Appreciation Souvenir at the Gala
Banner display at event
1 full-page ad in the dinner program
Corporate name listed as Diamond Sponsor in all event publicity materials

Ruby Sponsor ($20,000)

2 Ruby Sponsor tables of 10
Sponsorship announcement at press conference
On-stage presentation of Appreciation Souvenir at the Gala
1 full-page ad in the dinner program
Corporate name listed as Ruby Sponsor in all event publicity materials

Sapphire Sponsor ($15,000)

1 Sapphire Sponsor table of 10
Sponsorship announcement at press conference
Presentation of Appreciation Souvenir at the Gala VIP Reception
1 full-page ad in the dinner program
Corporate name listed as Sapphire Sponsor in all event publicity materials

Amethyst Sponsor ($10,000)

1 Amethyst Sponsor table of 10
Presentation of Appreciation Souvenir at the Gala VIP Reception
1 half-page ad in the dinner program
Corporate name listed as Amethyst Sponsor in all event publicity materials

Jasper Sponsor ($5,000)

1 Jasper Sponsor table of 10
Listing as Jasper Sponsor in the dinner program and all event materials

Topaz Sponsor ($3,000)

1 Topaz Sponsor table of 10
Listing as Topaz Sponsor in the dinner program and all event materials