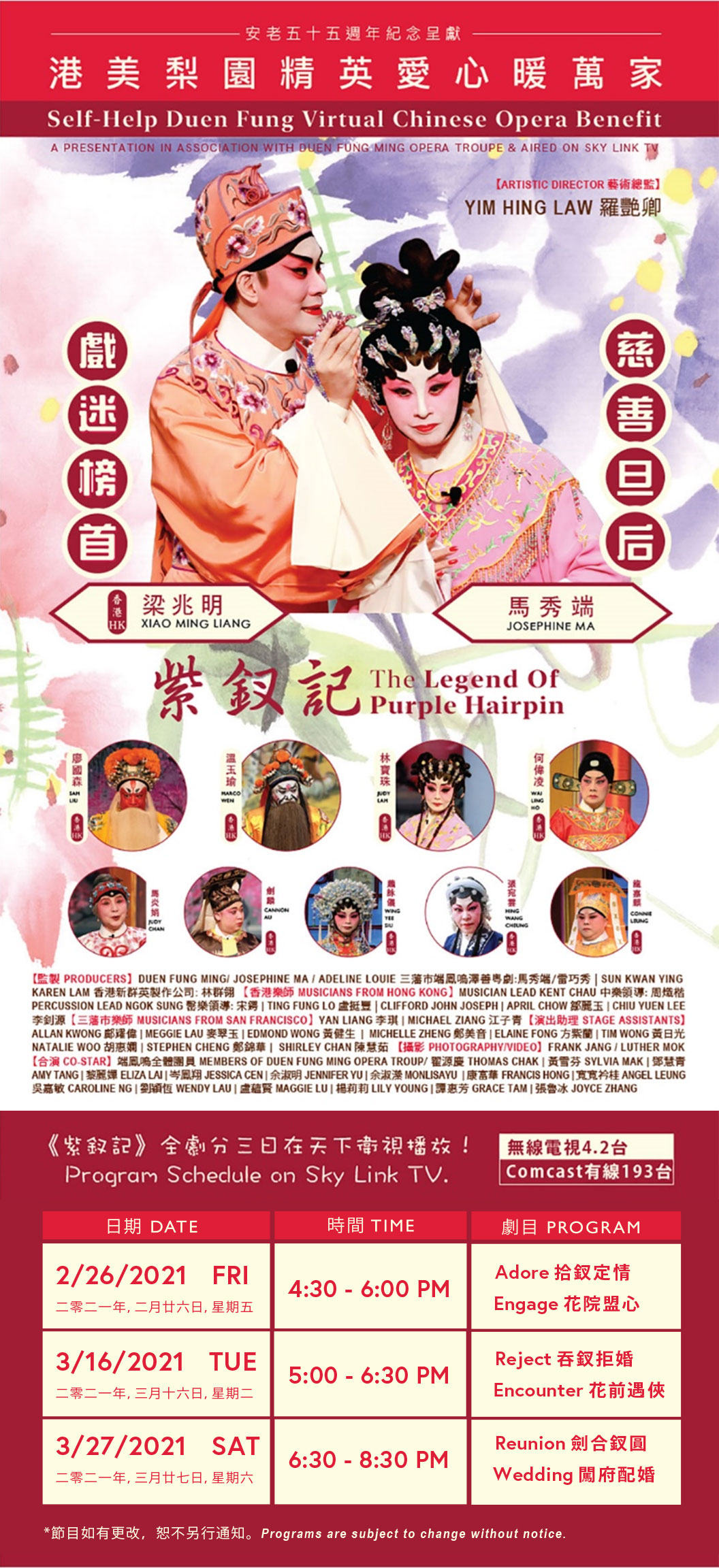 Love theater performances and the opera? Join us for our annual Chinese Opera Benefit! Self-Help for the Elderly hosts the Chinese Opera Benefit once a year as a weekend event. It is a grand experience of Cantonese opera for everyone to enjoy. Cantonese opera is a traditional Chinese opera incorporating music, singing, acrobatics, martial arts, and acting. The traditional plots are based on Chinese historical stories and famous classics and myths.
Each year, the Chinese Opera Benefit features the Duen Fung Ming Chinese Opera Troupe. The troupe features professional performers who put on a show full of the love and hate, gentle and bold, and war and peace complexity that Chinese opera has to offer. The night is filled with singing, dancing, pantomime, acrobatics, and clowning. It is a night filled of fun and friends!
35th Annual Chinese Opera Benefit
The Legend of Purple Hairpin 紫釵記
Program schedule on Sky Link TV
全劇分三日在天下衛視播放
日期 Date 時間 Time 劇目 Program

2/26/21 (Fri) 星期五 4:30 – 6:00 PM Adore 拾釵定情 Engage 花園盟心

3/16/21 (Tue) 星期二 5:00 – 6:30 PM Reject 吞釵拒婚 Encounter 花前遇俠

3/27/21 (Sat) 星期六 6:30 – 8:30 PM Reunion 劍合釵圓 Wedding 闖府配婚

* Please note this program is subject to change without notice. 節日如有更改, 恕不令行通知。
Special Gift for You When You Made a Donation Today!
You will receive a limited edition of 2022 Duen Fung Ming Chinese Opera Troupe Calendar if you made a donation of $100 or more. While supplies last.
Sponsorship Opportunities: Contact Josephine Ma at
josephinem@selfhelpelderly.org or 415-677-7668.