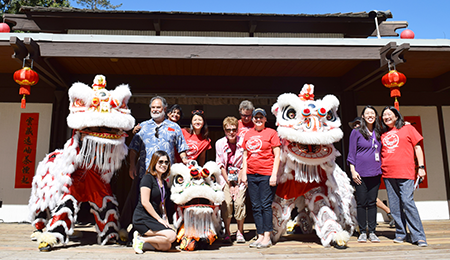 Generation Walk For Wellness
Registration 8:30 AM · Walk Begins 9:30 AM
Join us for our One-mile Generation Walk for Wellness in San Mateo Central Park to celebrate and support healthy living for all generations. Bring your grandparents, parents, children, friends, co-workers, and caregivers. Enjoy beautiful sightseeing at San Mateo Central Park and help to improve the wellness of seniors in our community.
Walkers receive a Generation Walk T-shirt and Four Generations Walkers Teams will receive special recognition. Walker donation of $20 per person requested. Cash or checks accepted at the event.
Free admission for seniors aged 65 or over, and children under age 10.
Live Outdoor Performances
Performances & Activities Begin 10:00 AM
Performances and activities begin after the One-mile Generation Walk for Wellness. Enjoy community live music and dance performances on the outdoor stage, food, and family fun activities. Don't miss out on our celebration of the 25th Anniversary of San Mateo Senior Center.
For event details and sponsorship opportunities, please contact Vincent Chu at (650) 342-0822 or email vincentc@selfhelpelderly.org.
Event Highlights
Peninsula Girls Chorus
Taiko Drums
Korean Dance
Flamenco Dance
Haiyan Dance Group
Lion Dance Troupe
Tropical Shaved Ice Truck
San Mateo Autumn Moon Festival & 25th Anniversary of San Mateo Senior Center
September 23, 2018
9AM – 1PM
San Mateo Central Park
50 E 5th Ave
San Mateo, CA 94401
EVENT BROCHUREREGISTER TO WALKSIGN-UP TO VOLUNTEER